Spire Acquired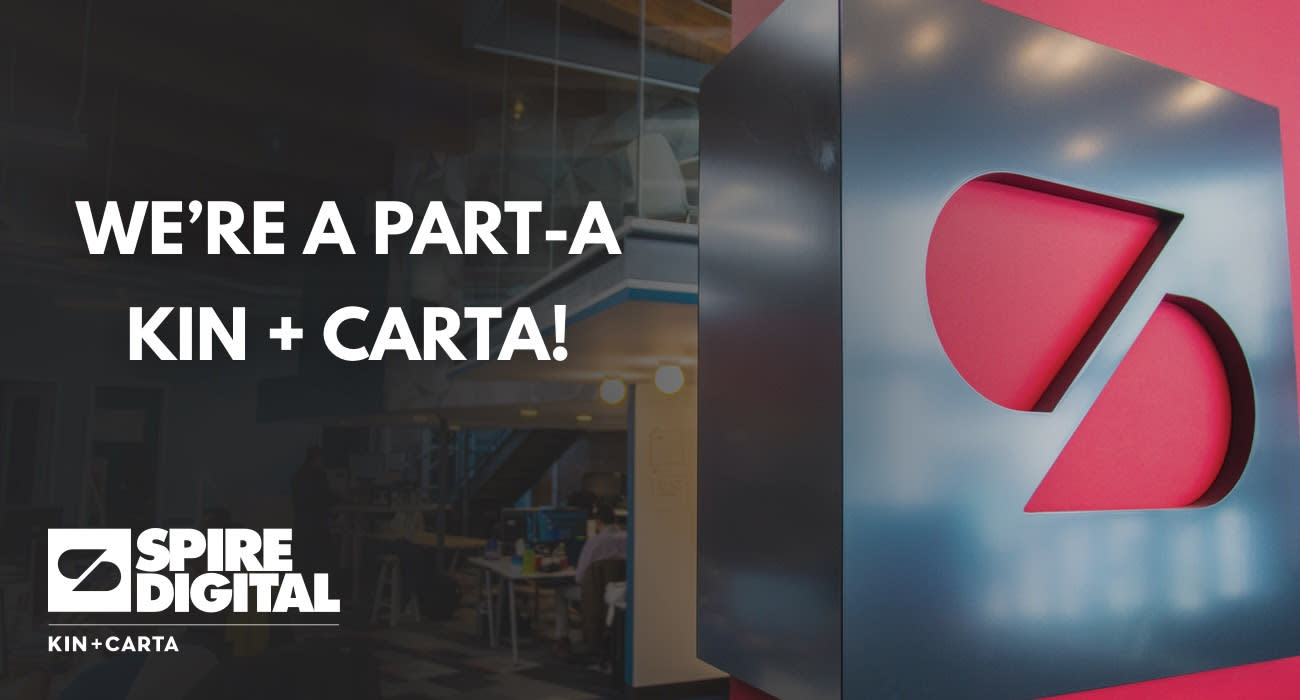 Friends of Spire,

Big news from The Dojo! After 21 years of growing Spire Digital into one of the most incredible organizations in the software industry, we've been acquired. Yes - the inconceivable has been conceived and acted upon, and we couldn't be happier!

As of today, Spire is a wholly-owned subsidiary of Kin+Carta, a 1,500 person global digital transformation consultancy, headquartered in London, with offices in Chicago, New York, San Francisco, Buenos Aires and Singapore.

Why, after a lifetime of independence and freedom from The Man's petty whims, would we sell out and get sucked up by a faceless behemoth? Well...first off, Kin + Carta is most definitely not The Man, or a faceless behemoth.

We had an endless barrage of fine feathered suitors hoping to win Spire's heart, but K+C stood out from the rest with its charm, good looks, and a commitment to all of the same principles that have gotten us where we are today. It honestly is the company that we would build if we had the resources and reach (and smart fashion sense) necessary to scale Spire on an international level.

This union offers our clients and employees more of everything they love about Spire. It gives us the opportunity to do things that we'd never be able to do on our own. And, it allows us to spread our influence far beyond the footprint we have here in the Western US.

The name Kin + Carta embodies what the group stands for: Kin, as in family, represents an emphasis on connection and collaboration. Carta, meaning map, underscores a mission to plot a clear path to the future for our clients and employees.

There are three core capability pillars within Kin + Carta:

Kin + Carta Advise – A digital advisory practice, combining "Suits + T-shirts" disciplines to develop pragmatic digital business, product and platform strategies.

Kin + Carta Create – A design-led, engineering-focused product and platform development practice that delivers business-critical products and cloud native platforms. Create has deep capabilities in emerging areas like machine learning, machine visioning, natural language interfaces and blockchain. Spire will be part of this pillar.

Kin + Carta Connect – A next generation marketing technology agency with deep expertise in the selection and implementation of customer data platforms, digital experience platforms and commerce platforms.

The entire company was built for the 2020s, as these three capability pillars work closely together in an iterative manner to deliver business outcomes, not technology. K+C will provide us with unparalleled access to top talent in a broader range of disciplines and engagement models. We'll also be able to offer our clients a number of services that, combined with Spire's core services, will deliver complete and robust solutions for even the largest of organizations.

Spire will still retain its personality and all the unique things that make us who we are. It will have all the positives of a small company with the backing and benefits of large company.

Why, pray tell, am I doing this?

Well, I'm incredibly proud of what we've built over the last two decades. Now, I'm ready to see Spire take the next step and reach the enormous heights it's capable of reaching, without being held back by my limited resources and my aversion to risk.

And, it's time to pass the torch. Over 14 years, Adam Hasemeyer has played a huge role in actualizing Spire's success. If I'm being honest, he's much more capable than I am of taking the company to the next level.

Adam will be taking over as CEO and I will become Executive Chairman, which basically means I'll continue doing what I do (including making omelettes and napping). I will also be here to ensure that the acquisition goes smoothly, that we retain the high level of quality for which Spire has become known, and that all of our clients and employees are taken care of even better than they were before.

I really couldn't be more excited about this acquisition (and I'm not just saying that). Kin + Carta shares our values, they have a focus on employees, they have a diverse set of offerings that will complement ours, and they will allow us to stay boutique while having international impact.

Each and every one of you is why we are here. Thank you so much for what you have contributed to making Spire what it is today. Truly, the best is yet to come!

Don't hesitate to reach out to me, Adam, Nick, or Dave with any questions you may have.
Onward and upward!