CTA Brings Colorado Tech Voices to Washington DC
On February 4th, Colorado Technology Association (CTA) embarked on our annual DC Fly-In. Part tech policy conference, part conversations with Colorado's Congressional delegation, CTA's DC Fly-In provides an opportunity for our members to learn the latest on tech policy issues from experts and establish a dialogue with decision makers.
This year three members joined CTA President & CEO Frannie Matthews and CTA Government & Industry Affairs Manager Matt Wendel on the Fly-In; Marina Johnson, CEO/CIO - MOST Programming, Inc., Chris Magyar, National Director of Techtonic Academy - Techtonic and Michael Simpson, CEO - PAIRIN.
We started off the Fly-In at CompTIA's tech policy conference where we heard from industry and government experts on workforce issues and apprenticeships in the tech industry, potential federal privacy legislation and how artificial intelligence is quickly evolving and resulting impacts. The theme that tied through everything was the increased need for tech talent and how the industry keep will need to keep up with with that demand.
The importance of tech talent also tied into our visits with members of the Colorado Congressional delegation. We met with Senator Cory Garnder and discussed apprenticeships in the tech industry and rural broadband and we also talked about the importance of providing more broadband access to rural parts of the state with Representative Scott Tipton.
Additionally, we met with the offices of Senator Michael Bennet where we discussed tech workforce and education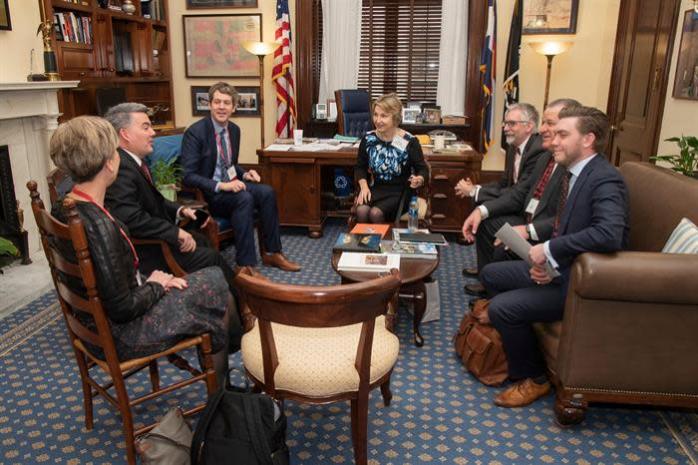 issues as well as artificial intelligence, Representative Ed Perlmutter where we discussed the Congressional App Challenge and Colorado's federal labs, and Representative Jason Crow where we talked about ensuring infrastructure packages include smart technology solutions.
We had a great time in Washington DC learning the latest in tech policy and building relationships with policy makers. It is important to us that we bring the voices of CTA members to Washington and that they are able to have conversations with decision makers to better inform their legislative work. We are already looking ahead to 2020's DC Fly-In!