CTA Celebrates Tech & Blockchain Day at the Colorado Capitol
On Wednesday, CTA partnered with the Governor's Office of Economic Development and International Trade (OEDIT) to host Tech and Blockchain Day at the Capitol. More than 150 members of the tech community attended and heard from speakers including Gov. Jared Polis, OEDIT Executive Director Betsy Markey, Senate Majority Leader Steve Fenberg, State Sen. Jack Tate and Rep. Tracy Kraft-Tharp.
CTA holds a Day at the Capitol every year because we believe it is extremely important for tech companies in Colorado to represent the state's tech industry and connect with policy makers to educate and inform them about their companies and organizations and the role they play in the overall tech ecosystem.
The tech industry here in Colorado is made up of a very broad base of verticals and technologies from software to artificial intelligence to blockchain and intersects with really every other industry in the state from energy to banking to communications. Every legislative session there are bills introduced that impact tech. This year we've already seen legislation dealing with issues such as blockchain, drones, computer science and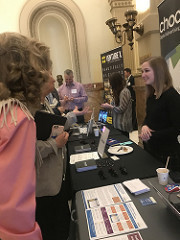 more.
We will see more innovation and technological change in the next 20 years than we did in the last 300. And with that will come the need for policies to be modernized to keep up, but also the need to structure policies to maintain and encourage innovation. That is why tech companies showing up at the Capitol is necessary. Showing up and creating a dialogue with policy makers makes a difference.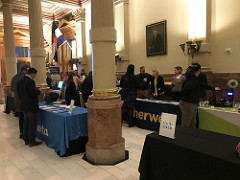 For the first time, CTA brought tech companies to the Capitol to showcase their tech and what they do. 18 tech companies displayed their innovative businesses throughout the Capitol including Aleph Objects, Cicsco Systems, midSpark Learning, PAIRIN, Visionlink, Blue Light LLC, CGI, Cherwell Software, Choozle, Colorado Interactive, Couragion, CyberSafe For Business, Galvanize, Levels Beyond, Okta, Venture X and Zen Technology Solutions. Lunch was provided by Mad Greens and sponsored by Google.
It was a great day for Colorado Tech!
Find photos from Tech and Blockchain Day at the Capitol HERE