Cloudbakers In-House CTO Interview on Post-COVID19 IT Project Prioritization
We've spent a lot of time lately thinking about how companies that we serve could be prioritizing projects and IT spend post-COVID. Since we conveniently have 3 real-world CTOs (one currently a CTO, the other two in previous roles/companies) in our executive ranks at Cloudbakers we thought we'd just ask them what they'd be prioritizing for a post-COVID19 world in those roles and how they'd justify that investment.
Over a month into worldwide "shelter-in-place" directives means that by now your company is working remotely regardless of where you may have begun on the "remote work readiness" spectrum. Whatever you've got, you've got, and to some degree the lights are on and things are working. That was a crazy ramp-up for everyone and these past few weeks have most likely not been super fun.
So, here we go. Let's ask Joel Hughes (current CMO), Mitch Greenwald (current Founder/CEO), and Eric Lannert (current CTO) a few questions about how they would navigate the post-COVID landscape if they were an IT executive out there:
Cloudbakers: This global pandemic has hit most businesses extremely hard, and it's common to hear that budgets across the board have been cut back. Companies are tightening their belts and putting projects on hold. Why should companies consider green-lighting new projects and keeping existing ones going post-COVID19?
Mitch: I'd argue that so many IT and app-dev projects are business-critical and in many ways can help companies actually save money in the long and short term. Here are a few reasons right off the top of my head to keep your IT projects alive post-COVID19:
De-risk the business: Tech debt and a lack of preparation for a rapid transition to 100% remote work will quickly show weaknesses in your remote access landscape. Some of these weaknesses could introduce risk to your business from a security, legal, or uptime standpoint.
Save money: Expensive on-prem vendor hardware and maintenance contracts that keep old legacy systems and data rooms alive can be surprisingly high. You might also find that the cost of shadow IT at your organization could be huge. For example if your sales force is all independently using their own remote conference software, and expensing that through their expense reimbursement process you may never even know how much that is costing you. Same with rogue file sharing accounts which can run rampant in many organizations.
Bring cash forward: Legacy billing, reporting, accounts receivable, and cash application systems, bank connectivity, and processes can bog down your accounting department and that's magnified many times over by having to suddenly go 100% remote. Improve your cash flow by upgrading those systems and processes now.
Joel: In addition to those points, I feel like this is a once in a lifetime opportunity to position your company for increased/additional revenue streams post-COVID19. If your competition is hunkering down and tightening their belts then that means you have an opportunity to leap-frog them with your investments and strategy. Re-imagining how your business works remotely should introduce new revenue streams. Client interactions that were previously in-person could, with the right systems and investment, be handled remotely in addition to in-person. This could increase your territory and introduce scale to your company. NOW is the time to expand your product line with innovative remote solutions and make interactions more frictionless and scalable.
Eric: Many economists are concerned about deflation as the economy absorbs declines of 20-50% in output demand. This would mean increased pressure on price and margins for the foreseeable future. The complicating factor could also be higher unit demand for many of our businesses. Multiple colleagues of mine are preparing for this double-whammy by investing in productivity improvements. Being able to substantially reduce your cost per widget/transaction through technology will be what defines the businesses that survive and ultimately thrive. The key to my colleagues strategies is an equal investment in change management and re-training to ensure company morale and customer loyalty stay high.
Cloudbakers: Thanks guys. Those are a few great reasons to keep budgets flowing for IT and application development. What areas should companies prioritize to lessen the impact of future remote-work situations, and why?
Joel: Upgrades: Remote solutions that are in place that are getting you through this but could be way better. These systems/solutions might currently be getting you by but leave you wanting for more security, reliability, usability, or higher fidelity. These might include:
Video conferencing hardware and services
Remote network access methods
Email systems
CRM systems
VOIP phone systems/vendors
Mitch: Filling in Total Voids: Remote work solutions that are just totally missing that you wish you had and are hurting your business now. A lot of tech debt lives here in regard to old on-prem systems in addition to stuff that's just entirely missing. These might include:
Workstation shortages/mis-management. "Grab-and-Go" laptops might quickly give your employees who traditionally work on office workstations the ability to have a pre-configured, secure, managed portable workstation instantly in the event that they'd have to WFH
Centralized on-prem services, processes, or systems that never made it into the cloud. That's stuff like the old GL system sitting on that NT box in the network closet that only accounting uses. The document scanning system that still requires physical access. The ancient office access control system that you manage with a serial port and that old laptop. That old fax server that nobody knows the logon for and has to be rebooted occasionally. The rogue locally-installed ACT! CRM installations that some of your salespeople still cling on to. The SQL Server data warehouse you use for reporting that an intern created 10 years ago. That old firewall-based hardware VPN that nobody upgraded. That huge NAS device that acts as high-availability storage for your graphic artists and video department.
Robust HR/Corporate intranet for keeping employees in the loop with corporate affairs, policies, news, etc. in a 100% remote scenario. This includes access to all HR procedures and systems related to comp/payroll, sick/paid leave, benefits information, etc.
Telephony/phone systems that might still be on prem or hybrid to some degree.
Eric: Building on what Mitch and Joel said, I'm hearing many companies having challenges with supporting remote workers who cannot access their files and email archives. This is because the VPN is not fast enough to support everyone coming in from the outside, and accessing massive outlook PST archive files has never been a usable remote solution for anything other than a painful hour-long process to get to that one email someone needs.
Joel: How about Adoption?: Maybe you have several totally ideal technologies in place, but your employees and teams were never fully trained up on them. The tools are there but you're leaving productivity on the table because of inconsistent or incomplete adoption of those tools. This includes:
Video conferencing training and best practices
Chat training
Remote file sharing and storage training
Browser-based email training (vs. using a client like Outlook)
Mitch: and let's not forget about security: You could have all the right tools, all the right adoption, but still find yourself hung out to dry with a lack of security measures for a 100% remote workforce. This includes:
Security training on WiFi, Phishing, file management/transfer
Password management and policies
Endpoint control and management for personal and corporate devices
SSO systems and inter-service access control/permission management
Encrypted forms, websites, remote sessions
Remote payment, transactions, bank management, cash receipts
Secure file management, archiving, and transfers
Full ownership of your data if you're in a situation where you can't download it or transfer it
Eric: during this much change in employee's routines, we are finding usability as the primary driver of adoption. I've been on multiple video conferences this month with clients who happen to use "other" video conferencing providers, only to see people drop off and on again while everyone jokes about the new normal or how they wished the CIO had gone Google. In these times, reliability == usability == adoption.
Cloudbakers: Cool, good stuff. Anything else that comes to mind during this unprecedented time?
Mitch: This might be a time to think about what non-essential systems can be spun down and removed from your technological landscape. Take a look at your infrastructure and systems with an "essentialist" mindset. Nothing is sacred, question everything.
Joel: In general I feel like CTOs and IT Directors are going to have to get creative and put their revenue hat on to get approvals for their 2020 spend. I can't stress enough that potential revenue opportunities are the quickest path to getting your capital expenditure requests approved post-COVID. With that in mind keep an opportunistic growth mindset for your business front and center during this time.
Eric: As our companies settle into a new work mode, a silver lining may appear as the noise levels and interruptions and velocity of life all slow. We can all use this lower volume context to be more strategic, more thoughtful, and demonstrate greater empathy with customers, staff, family and community.
Originally published on April 24, 2020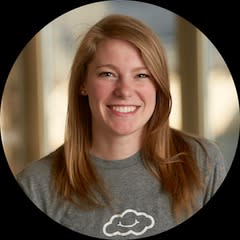 Author Bio: Marketer, Aquarium Volunteer and Minnesota Golden Gopher. Ashley is obsessed with productivity and communicating best practices to others so that they can be productive as well! She's directed the Cloudbakers Marketing team since 2013.