US-UK Tech Opportunities
Last week, Colorado Technology Association (CTA) partnered with the UK Government Office in Denver, Invest Northern Ireland, and the UK's Department for International Trade to discuss and learn more about the possibility of a U.S.-U.K. Trade Agreement, what that could mean for Colorado tech, and how it could affect data and people movement, trade relations with the United States and next steps around Brexit.
CTA President and CEO, Frannie Matthews, remarked, "We work in a global market. The U.K. has been a valued trade partner for decades. For tech, strengthening the relationship means greater access to diverse talent and the opening of new markets. It also creates an environment where new ideas can be shared and innovation can thrive."
We heard from Alan Gogbashian, British Consul General in Chicago and a panel of executives from Colorado companies and others working in the UK, including Puppet, Learning Pool, Pax8, Dispatch Health and NI Cyber.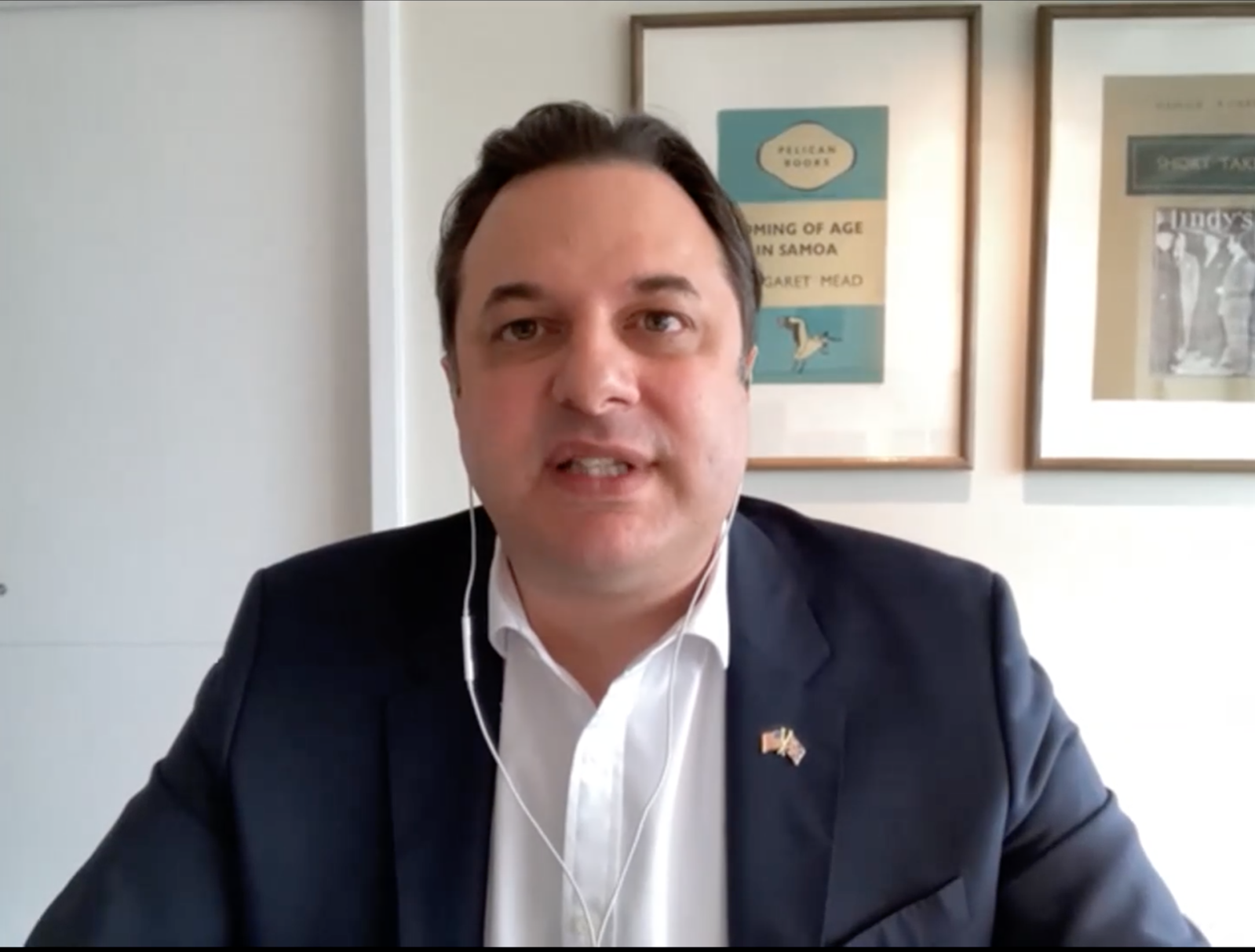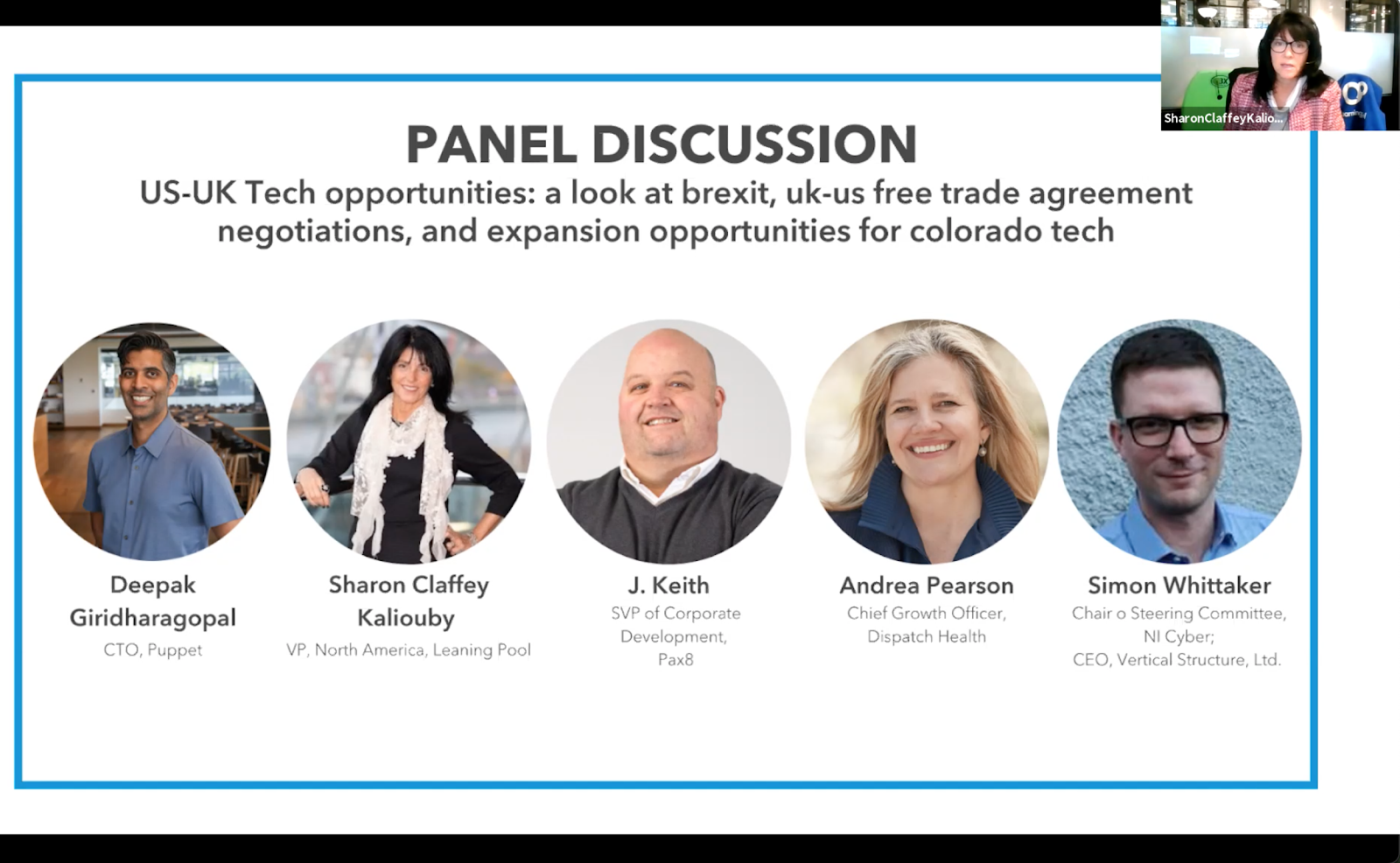 WHAT WE HEARD
On the CO-UK Economic Relationship:
In Colorado, the UK is (by far and away) the largest foreign direct investor in the State and a top three export market for Colorado goods and services.
UK companies in Colorado create nearly 21,000 jobs in the state (this is in addition to 9,240 jobs created by Colorado exports to the UK)
The UK is the third-largest export market for Colorado, totaling $1.5 Billion in 2019.
Colorado companies interested in learning more about opportunities to expand their business into the UK market can contact the UK's Department of International Trade here.
Find additional trade and investment data for Colorado and the UK here.
On the US-UK Economic Relationship:
The UK-US partnership is a cornerstone of the transatlantic alliance. We are each other's closest allies with links at every level of society, culture and the economy.
Every morning 1.3 million people get up and go to work for British companies in America, and 1.7 million people in Britain do the same for American companies in the UK.
The UK has appointed a Tech Envoy specifically for the US. You can find more about him and the position here.
In the four quarters to the end of Q3 2020:
Total trade in goods and services between the UK and the US was $266.5 billion.
The US was the UK's largest trading partner, accounting for 17.1% of total UK trade.
The US accounted for 12% of UK goods trade (largest goods trading partner) and 25.3% of UK services trade (largest services trading partner)
On a UK-US Free Trade Agreement:
Analysis shows a UK-US agreement in a comprehensive FTA, UK exports to the US could increase by £9.1bn, and imports by £6.2bn, leading to a total trade increased by £15.3bn / $19bn.
The agreement is specifically focusing on making trade easier for SMEs (Small and Medium-sized Enterprises), which are the lifeblood of our economies.
There will be a digital chapter included in the agreement that will focus on helping the tech community by providing cutting-edge digital provisions to maximize digital trade opportunities.
The FTA agreement is designed to be 'future-proofed' in order to take into account new technologies such as AI.
US annual GDP could increase by almost $10 Billion.
On Northern Ireland Investment:
Northern Ireland has a vibrant cluster of international tech companies, including Puppet and others like SpotX.
Belfast is the center of excellence for cybersecurity, but Northern Ireland also attracts companies in telecom, data analytics, healthcare IT, and fintech.
On the UK's Vibrant Tech Community:
Our panelists mentioned access to talent, time zones, similar cultural and regulatory environments, innovative ecosystems, and a collaborative spirit as key drivers for setting up an office in the UK.
UK VC tech investment hit a record high of $15bn in 2020.
The UK is Europe's top scaling tech nation and is the world's 3rd largest market for tech investment.
The UK is 3rd in the world for tech unicorns behind only the US and China, with 80 companies valued at over $1bn. This is more than France and Germany combined.
Event Panelists Included:
Deepak Giridharagopal, CTO, Puppet
Sharon Claffey Kaliouby, VP, North America, Learning Pool
J. Keith, SVP of Corporate Development, Pax8
Andrea Pearson, Chief Growth Officer, Dispatch Health
Simon Whittaker, Chair of Steering Committee, NI Cyber; Chief Executive Officer, Vertical Structure Ltd